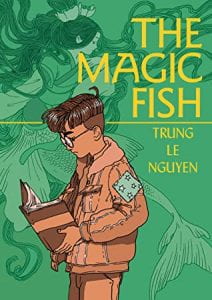 Nguyen, Trung Le. The Magic Fish. Random House Graphic, 2020. 978-0-593-12529-8. 256 p. $23.99. Grades 7-9.
In The Magic Fish, author/illustrator Trung Le Nguyen braids together a family's immigration story, a son's desire to reveal a part of his identity to his parents, and retellings of classic fairy tales such as Cinderella and The Little Mermaid. Eighth-grader Tien reads these fairy tales to his mother, whose first language is Vietnamese, to help her improve her English. Mother and son (and father, when he isn't at work) are close as can be, but still Tien struggles with how to share his secret with them: he is attracted to boys. The problem is part language barrier, part apprehension for how they will react. Tien's mother, meanwhile, is struggling with the declining health of her own mother in Vietnam, and memories of fleeing her home country many years ago. Nguyen's truly exquisite artwork is color-coded to orient the reader both in time and within the story; the present is ruby red, the past is mustard yellow, and the fairy tales are various jewel tones. It sounds complicated, but it works beautifully. The fairy tales foreground themes of new beginnings, identity, isolation, and connection, while also casting light on the experiences of our main characters. The gentle twist at the end satisfyingly reminds Tien (and readers!) that true happy endings are the ones we write for ourselves.
THOUGHTS: Readers of The Magic Fish will find themselves equally captivated by each storyline within this many-layered tale.
Graphic Novel          Amy V. Pickett, Ridley SD