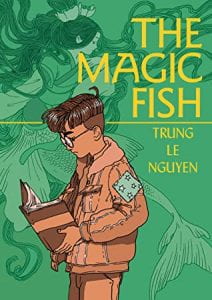 Nguyen, Trung Le. The Magic Fish. Random House Graphic, 2020. 978-0-593-12529-8. 256 p. $23.99. Grades 7-9.
In The Magic Fish, author/illustrator Trung Le Nguyen braids together a family's immigration story, a son's desire to reveal a part of his identity to his parents, and retellings of classic fairy tales such as Cinderella and The Little Mermaid. Eighth-grader Tien reads these fairy tales to his mother, whose first language is Vietnamese, to help her improve her English. Mother and son (and father, when he isn't at work) are close as can be, but still Tien struggles with how to share his secret with them: he is attracted to boys. The problem is part language barrier, part apprehension for how they will react. Tien's mother, meanwhile, is struggling with the declining health of her own mother in Vietnam, and memories of fleeing her home country many years ago. Nguyen's truly exquisite artwork is color-coded to orient the reader both in time and within the story; the present is ruby red, the past is mustard yellow, and the fairy tales are various jewel tones. It sounds complicated, but it works beautifully. The fairy tales foreground themes of new beginnings, identity, isolation, and connection, while also casting light on the experiences of our main characters. The gentle twist at the end satisfyingly reminds Tien (and readers!) that true happy endings are the ones we write for ourselves.
THOUGHTS: Readers of The Magic Fish will find themselves equally captivated by each storyline within this many-layered tale.
Graphic Novel          Amy V. Pickett, Ridley SD
The Magic Fish introduces readers to Tien who enjoys reading his favorite books from the library, specifically fairy tales.  Tien has a hard time communicating with his parents for multiple reasons, one of which is a language barrier, however he also is finding it hard to put into words what he's feeling and thinking. Tien finds it especially difficult because he is grappling with his sexual identity and whether or not he might be gay. Trung uses fairy tales in such a beautiful way to deal with hard things for kids, and parents, to talk about, that the book never feels too heavy or weighed down by these big topics. The illustrations are absolutely beautiful and add so much to the story.
THOUGHTS: I'd highly recommend this book for any high school library graphic novel collection. The story feels so relatable, even if you have never had to deal with any of the topics that are woven throughout the book.
Graphic Novel          Mary Hyson, Lehigh Valley Academy Charter School