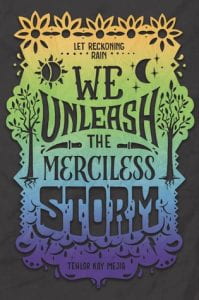 Mejia, Tehlor Kay. We Unleash the Merciless Storm. Katherine Tegen Books, 2020. 978-0-062-69134-7. $17.99. 388 p. Grades 9 and up.
This sequel to last year's We Set the Dark on Fire switches gears from Daniela's point of view and instead follows Carmen as she returns to La Voz's rebel base outside of Medio's walls and has to re-establish her loyalty to the found family she has been removed from since being placed in the Medio School for Girls as a spy years ago. Her fellow La Voz members question her loyalty because Daniela, Mateo's other wife and Carmen's true love, still lives with him in the capital, and though Dani also pledged allegiance to La Voz's rebellion, the other members aren't as convinced of her loyalty as Carmen, especially Ari, a new La Voz member who rose to the ranks quickly while Carmen was on her mission outside the rebellion. Carmen wants to extract Dani; Ari and La Voz's leader, El Buitre, worry her feelings are getting in the way and see Dani as a liability that should be eliminated. As Mateo prepares to take over the presidency – and squash La Voz's rebellion once and for all – Carmen must decide whether to trust her fellow rebels, the only family she's ever known, or follow her heart and save the woman she loves… all while trying to keep the rebellion alive and not let tyrannical Mateo win.
THOUGHTS: We Set the Dark on Fire was my personal favorite read of 2019, but this sequel starts out a little slow, which may just be due to an adjustment to the change in point of view and setting. However, once Carmen makes a certain critical decision, the book becomes unputdownable. The latter two-thirds are fast-paced, action-packed, full of unexpected twists and turns, and satisfying for fans of these characters. Mejia has crafted a refreshing and timely fantasy duology full of strong female characters. Highly recommended for fans of the genre.
Fantasy          Sarah Strouse, Nazareth Area SD