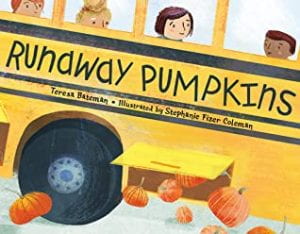 Bateman, Teresa. Runaway Pumpkins. Charlesbridge, 2020. 978-1-580-89681-8. 32p. $16.99. Grades K-3. 
As the leaves begin changing colors, students are ready for their field trip to the pumpkin patch. During the bus ride, they chatter about the kinds of pumpkins they plan on picking. In the field, each student selects one pumpkin to take home, and the pumpkins are loaded into the storage area under the bus. Students daydream about the ways they'll decorate their pumpkins. But, disaster strikes during the return bus ride! The lower doors are not latched tightly, and all the pumpkins roll out! Confused townsfolk see the smashed pumpkins all over their lawns and porches, and they devise a plan for reuniting the students with their pumpkins. Meanwhile when the students arrive at school, everyone is disappointed to see the empty storage area. The only pumpkin still safely on the bus is the large one strapped to the roof, which the children proceed to decorate together. The next day, at the harvest fair, the townspeople make a surprise appearance, each bringing a different dish made from the children's runaway pumpkins. From pumpkin cake and pumpkin ice cream to pumpkin soup and pumpkin fries, the children are excited to see the missing pumpkins in their new forms.
THOUGHTS: The upbeat, rhyming text will appeal to primary students, making this a fun fall-themed read-aloud. The story also celebrates the community spirit, as well as the idea of making the best of an unexpected situation. Students and townspeople are racially diverse. Overall, this is a fun autumn story that doesn't center on Halloween.
Picture Book          Anne Bozievich, Southern York County SD