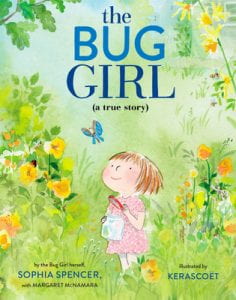 Spencer, Sophia, & Margaret McNamara. The Bug Girl: A True Story. Schwartz & Wade Books, 2020. 978-0-525-64593-1. 44 p. $17.99. Grades K-3.
Sophia Spencer describes herself in three words: "The Bug Girl." Sophia falls in love with bugs at the young age of two-and-a-half when a butterfly lands on her shoulder and stays there for her entire visit while she is visiting a butterfly conservatory. She starts learning all she can about every type of bug and because of that, Sophia notices them everywhere she goes. She has a strict no-kill policy with any bugs, a rule her mother respects, even when Sophia brings unwanted critters inside the house. When Sophia is in kindergarten, all of her classmates are entranced by her stories and facts about bugs. But as she grows up and moves through elementary school, she notices that her classmates, once intrigued by her unique hobby, are now making fun of her. Crushed by the criticism and ridicule of her peers, Sophia gives up bugs for a bit… until her mother reaches out to other bug scientists. The responses she receives change her life forever. Beautiful illustrations by the husband and wife team Kerascoët (illustrators of Malala's Magic Pencil) show how full of color Sophia's life really is.
THOUGHTS: What makes this picture book biography unique, besides showcasing the much under-represented topic of women in science, is that it is written by The Bug Girl herself. This is quite an accomplishment for a fourth grader. There is even a section of bug facts in the back of the book, written by Sophia in kid-friendly language. Her inspirational story shows that elementary students are quite capable of pursuing their interests even when others do not understand them, although it may not be easy. Young female readers who are interested in science will connect to Sophia's story.
921 SPE          Danielle Corrao, Ephrata Area SD