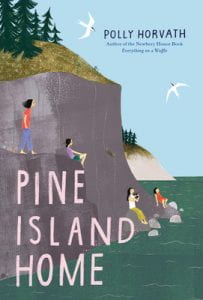 Horvath, Polly. Pine Island Home. Holiday House, 2020. 978-0-823-44785-5. 228 p. $16.99. Grades 4-6.
Having lost their parents in a tsunami in Thailand, the four McCready sisters are in search of a new home. However, no one in their extended families is willing to take them and Fiona, the oldest, is worried that the girls will be split up and sent to different foster homes. Finally, an unknown relative named Aunt Martha, who lives on Pine Island in British Columbia, happily agrees to have them move in with her. When the girls arrive, they learn from a cantankerous neighbor named Al that their aunt died a few days before. Fourteen year old Fiona decides that they will keep this a secret from the authorities and take care of themselves in their aunt's house with the help of  the school principal. Al, a rejected suitor of Aunt Martha, reluctantly agrees to pretend to be their guardian and fends off requests from the authorities for official paperwork. The girls enjoy their life on Pine Island. Marlin develops her cooking skills, Natasha has an adventure while bird watching, young Charlie encounters the neighborhood bear, and Fiona meets a boy. Then, one day a social worker comes to their front door. Will the girls have to leave their home? Will they be sent away from each other?
THOUGHTS: This story is classic Horvath with its eccentric characters and culinary references. She has created characters who show strength and resilience as they experience both happy and heartbreaking moments. Fans will enjoy this one, but may feel that there are some loose ends in the plot and hope for a sequel. Suitable for middle grade collections.
Realistic Fiction           Denise Medwick, Retired, PSLA Member