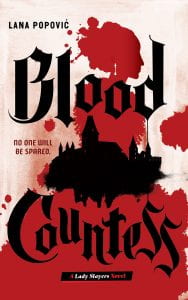 Popovic, Lana. Blood Countess. ABRAMS, 2020. 978-1-419-73886-9. $14.99. 304 p. Grades 8-12.
Anna Darvulia is the daughter of a cruel father and gentle midwife and healer. Her mother has taught her well, and although she's only sixteen, when she's summoned by Countess Elizabeth Bathory, Anna is able to save her son from death. Days later, the countess summons her again, this time to be one of her chambermaids. At first her father refuses the offer, but after his death, she accepts the position to help support her family. The Countess allows her into the household, but as a lowly scullery maid due to her belated acceptance of the position. Anna's curiosity about the countess grows during her stay in the castle. According to the rumors, she's wicked and cruel, but in Anna's presence, she's always shown mercy and kindness. Anna's knowledge of healing herbs and medicines eventually land her as a chambermaid to the countess, and it doesn't take long for the two to become close. As Elizabeth's lover, Anna begins to enjoy a life of luxury, but although Elizabeth is kind to Anna, she's terrible to others. Convinced that Elizabeth's cruel behavior is a result of the abuse she receives from her husband, Anna tries to bring out her gentle side and shows her cruelty doesn't have to be the answer. As Elizabeth's behavior crosses into madness, Anna must decide whether to stay with the woman she thought she knew, or escape the castle before she becomes the next victim.
THOUGHTS:  Blood Countess, book one in the Lady Slayers series, is a fictional account of the real historical figure, Countess Elizabeth Bathory. After finishing the story, readers will most likely find themselves researching the facts and legends of this terrifying historical figure. Popovic spins a both sympathetic and horrific narrative for the countess, and readers will see Anna fall into a toxic relationship with someone that she believes loves her in return. Both Elizabeth and Anna are victims of the patriarchy of their world, and this shared circumstance is what ultimately brings them together. "For all the gold and silver of her coffers, in some ways the countess is just like me. A woman, with a man's cruel hand around her wrist." In the end, Anna is able to see Elizabeth for who she truly is, and ultimately makes the choice to do what is right. Readers looking for both thrill and romance will enjoy this dark and chilling tale, and it's the perfect book to read during the month of October if promoting books that fall into the genre of horror or themes of Halloween.
Fantasy          Emily Hoffman, Conestoga Valley SD