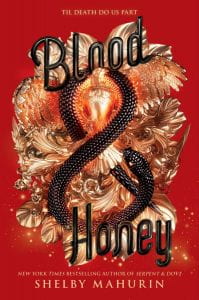 Mahurin, Shelby. Blood & Honey. HarperCollins, 2020. 978-0-062-87805-2. $18.99. 532 p. Grades 9-12.
Louise and Reid are on the run. In order to escape Lou's mother, Morgane le Blanc, Reid was forced to make a terrible sacrifice that unintentionally unleashed magic of his own. Hunted by the witches, the king, and the chasseurs, their group splits up. Lou, Coco, and Ansel head to the Dames Rouges in the hopes of gaining allies, while Reid, Beau, and Madame Labelle join a traveling troupe and disguise themselves as performers. As the characters look for allies, they must also learn to trust each other. While Lou begins to unleash more of her powers, Reid desperately tries to suppress his own. As their enemies draw closer, secrets, doubts, regrets, and sorrows cause Lou and Reid to pull away from each other. Will their love be enough to keep them together, or will they remain enemies as a witch and witch hunter?
THOUGHTS: Blood & Honey is the sequel to Serpent & Dove, and while the former focused on the love story of Lou and Reid, the latter explores survival, loss, and sacrifice. After experiencing trauma, both Lou and Reid are trying to discover who they really are, and must decide who they may become. Although this is a fantasy series, many of the themes will still resonate with readers today. For example, Reid has been brought up to hate witches and magic, but through his own experiences, he learns that not all witches are evil, and not all magic is bad. Readers will certainly feel a roller coaster of emotions as they experience the confident, lighthearted Lou descend slowly into darkness, and her golden cord will tug on their heartstrings as Reid stands by to pull her back.
Fantasy          Emily Hoffman, Conestoga Valley SD