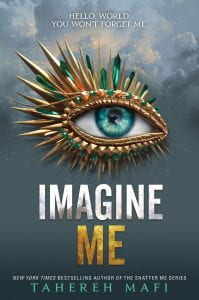 Mafi, Tahereh. Imagine Me. HarperCollins, 2020. 978-0-062-67644-3. $18.99. 464 p. Grades 9-12.
"Imagine me, master of my own universe. I am everything I ever dreamed of." Juliette Ferrars has survived abandonment, imprisonment, isolation, and loneliness, but she still learned to let people into her life as mentors, companions, and friends. She fell in love, became a leader, and almost lost it all. Although the reestablishment is still a threat, Juliette must now face her past in order to survive her future. Now that Juliette knows about Ella, she'll need the support of her loved ones to help her understand who she truly is. When Juliette is captured, Warner and Kenji must find a way to bring her back and put an end to the reestablishment once and for all.
THOUGHTS:  Imagine Me is the final book in the Shatter Me series, and this is a series that gets better and better with each book! I wasn't overly impressed with Shatter Me, but I was hooked after reading Unravel Me and Ignite Me. The series could have ended after Ignite Me; however, there was so much more to all the characters than I could have ever imagined, so I'm glad that Mafi decided to continue the series to tell the rest of their stories. Imagine Me reveals even more secrets, plot twists, and shocking moments that will keep readers on edge until the very end.
Fantasy          Emily Hoffman, Conestoga Valley SD