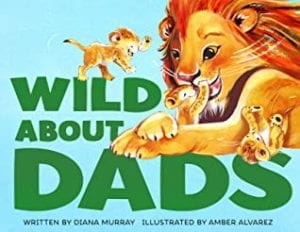 Murray, Diana. Wild about Dads. Imprint, 2020. 978-1-250-31574-8. 32pp. $17.99. Grades K-2. 
Rhyming couplets pair with full-page, vibrant illustrations in this sweet tribute to dads of all kinds. This title's opening spread features human dads and their children enjoying a day at the park. Subsequent pages feature dads from all over the animal kingdom interacting with their young. From boosting little ones up to grab berries and playing hide-and-seek, to cozying up for an afternoon nap, animal dads share all kinds of one-on-one time. The closing spread features the same human dads and children at the park, reminding readers that "There's a lot that dads can do, the best of all is loving you!" The back endpapers feature an illustration of each animal highlighted in the story as well as a brief description of where the animal lives and what the father does as a caretaker. 
THOUGHTS: This book is perfect for read-alouds, especially ones centered around families or in celebration of Father's Day. The text and illustrations will prompt discussions and comparisons between things humans dads do and things animal dads do to take care of their families. 
Picture Book          Anne Bozievich, Southern York County SD