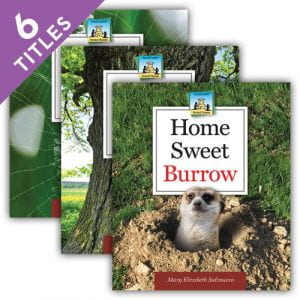 Murray, Julie. Animal Homes. Abdo, 2020. $19.95 ea. $119.70 set of 6. 24 p. Grades PreK-2.
Burrows. 978-1-5321-8521-2.
Caves. 978-1-5321-8522-9.
Dens. 978-1-5321-8523-6.
Nests. 978-1-5321-8524-3.
Trees. 978-1-5321-8525-0.
Webs. 978-1-5321-8526-7.
While many children's non-fiction series focus on animals, fewer titles focus solely on the habitats they call home. Abdo aims to fill this gap with their Animal Homes series for younger readers. Each title discusses a home, giving several examples of creatures that live in each type of home and also how each home is created. This reviewer had the opportunity to review Nests. Photographs depicted a variety of nests, including birds' nests, wasp nests, sea turtle nests, and more. The accompanying text conveyed basic information regarding nests and their inhabitants. Back matter includes a visual glossary and additional photos of creatures that live in the home. Also present is a code that readers can use on Abdo Online to access crafts, games, videos, etc. related to the title. 
THOUGHTS: This series offers primary readers a basic understanding of some of the most common animal homes they might encounter in nature or see outside their windows. Abdo's accompanying online material is superior to what many other publishers offer and could be utilized by teachers in lessons or as extension activities. Educators who are teaching in a hybrid-type model may wish to encourage students who check out Abdo titles of the school library to explore their title's Abdo Online resources on days when classes are not meeting in-person. 
591.564 Animals          Elizabeth Henry, Lampeter-Strasburg SD