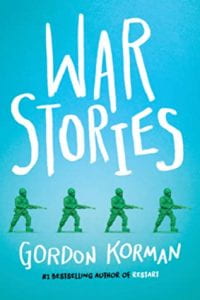 Korman, Gordon.  War Stories.  Scholastic Press, 2020.  978-1-338-29020-2.  231 p. $15.67. Grades 3-6.
No matter how many times his father tells him that war is not a video game, 12-year old Trevor Firestone refuses to believe it. Not when his video game seems to line up with what his great grandfather has told him about his experiences in World War II. So when his G.G. has an opportunity to return to France as the guest of honor at a celebration commemorating the seventy-fifth anniversary of the victory in Europe, Trevor can't wait to tag along. But even before they leave the United States, there are hints that G.G.'s time in France was not as described.  It seems some people remember him differently and would rather he did not return for his hero's welcome because they see him as anything but a hero. With chapters alternating between present day and 1944, Korman increases the tension the closer Trevor and his family get to Sainte-Régine. G.G.'s stories of war, which had always seemed so exciting to Trevor, start to turn somber, and when the truth is revealed, Trevor will have a better understanding of the price of war.
THOUGHTS: Korman does an excellent job of taking the glamour out of war for students who may experience it only through video games. Ultimately, this is a well-told story about the importance of family.
Realistic Fiction          Melissa Johnston, North Allegheny SD