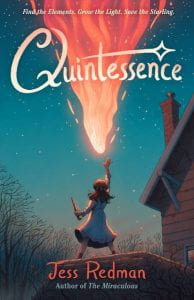 Redman, Jess. Quintessence. Farrar, Straus, Giroux,  2020. 978-0-374-30976-3. $16.99. 384 p. Grades 3-6.
Twelve year old Alma, a once curious girl, hasn't felt like herself since moving to the town of Four Points. Shortly after moving, Alma began having panic attacks, and though she's managed to convince her parents that they stopped, they really haven't. Instead of going out to explore like she used to love doing, Alma spends afternoons after school in her parents' new law office. When she meets the reclusive shopkeeper of the Fifth Point, a local junk store with a legendary lookout on its roof, he gives Alma a quintescope. It seems like a sign when – while running out of school – Alma spots an astronomy club flyer on the door. Her curiosity piqued, Alma decides to stop by to see what the club is like. There she meets Hugo, a brilliant young mind who lacks some awareness of himself socially; Shirin, a girl who seems to be part of the popular crowd but doesn't feel like she fits there; and Dustin, a boy who has more to himself than the bully like he seems. With a shared interest of helping the Starling, this group of misfits learns about each other while learning about more themselves.
THOUGHTS: With a lovable cast of characters, each with his or her own insecurities, Quintessence captures what it means to find oneself at a time in life where many struggle. Give this book to fans of the inexplicable, those who recently moved or are looking for a new friend, or those who need a little magic in their lives. This book deserves a place in all middle school library collections.
Fantasy          Maryalice Bond, South Middleton SD