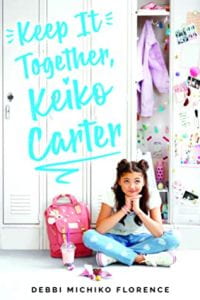 Florence, Debbi Michiko. Keep It Together, Keiko Carter. Scholastic Press, 2020. 978-1-338-60752-9. 293 p. $15.67. Grades 3-6.
Keiko Carter likes her friendships like she likes her chocolate—high quality, sweet, and smooth.  Unfortunately, as Keiko and her two best friends start seventh grade, their friendship is anything but. Audrey joins the Fall Ball committee and declares that they need to find boyfriends, so they can all go to the dance together. The problem is, the boy Audrey has set her sights on is the boy Jenna has been texting all summer. Plus, Jenna is not sure she wants to continue letting Audrey always get her way, and now they aren't talking to each other. Keiko finds herself caught in the middle between her feuding friends, and she has no idea how to keep the peace. Tensions at home add to her problems, not to mention her feelings for a boy that Audrey will never approve of and a new boy who gets between Keiko and Audrey. Should Keiko compromise her needs to bring her friends back together, or will Keiko find that standing up for herself is the sweetest treat of all?
THOUGHTS: Middle school girls will recognize Keiko's friendship struggles, but there are lessons about relationships and knowing yourself that are appropriate for boys as well. This is a good story about finding your voice.
Realistic Fiction        Melissa Johnston, North Allegheny SD