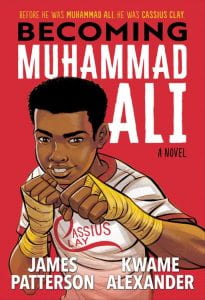 Patterson, James, and Alexander, Kwame. Becoming Muhammad Ali. Jimmy Patterson Books, 2020. 978-0-316-49816-6. 310 p. $16.99. Grades 4-8.
We all know about the legend that is Muhammad Ali, but few know about the boy called Cassius Clay. This book, written partly in verse and partly in prose is a must read for any sports loving reader. Told in ten rounds, like a boxing match, Clay's friend Lucky tells part of the story (written by Patterson) while Cassius' voice is told in verse (written by Alexander). Learn how the events of the day shaped Clay into Ali and how sheer determination and self belief led to Clay's success. A bibliography is included.
THOUGHTS: A first purchase for any middle grade library collection.
Realistic Fiction          Krista Fitzpatrick, Waldron Mercy Academy