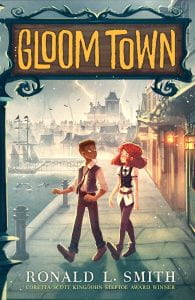 Smith, Ronald. L. Gloom Town.  Clarion Books, 2020. 978-1-328-84161-2. 269 p. $16.99. Grades 5-7.
Smith's latest work is a mixture of horror and fantasy. Twelve year old Rory lives with his mother in the town of Gloom in Europica. In this seafaring town, the flowers are wilted, and it is always overcast. To help with the family's dire financial situation, Rory takes a job as a valet in the spooky Foxglove Mansion. He quickly learns that something sinister is going on there after meeting the unfriendly butler Malvonius and the eccentric Lord Foxglove. After hearing mysterious sounds coming from behind a red door in the mansion, Rory begins having dreams about a strange woman's voice coming from a dark mist, who hungers and thirsts. When the butler learns that Rory has discovered a human heart buried in the garden, he barely escapes from the mansion with his life.  With the help of his friend Izzy, a tarot card reading witch, Rory uncovers the dark secrets that are hidden in the mansion and learns about the diabolical plans that are being devised. And when a huge brigantine ship docks in the harbor, Rory learns something about himself that changes his life forever.
THOUGHTS: This book is a bit of a chameleon. The benign looking cover and the likeable main characters seem to put it in the fantasy genre. However, there are some horrific plot elements in the book, such as two murders, including that of a child, that appear to be out of balance with a fantasy and make the story more creepy. The reader may think that these macabre incidents will all be explained away like a Scooby Doo cartoon, but they are not. The book would benefit from better development of the background of the evil supernatural creatures and their effect on the town, as well as that of a mythic figure named Goldenrod. This is a Junior Library Guild selection. Purchase for middle school libraries where horror stories or books by the author are popular.
Horror, Fantasy          Denise Medwick, Retired, PSLA Member