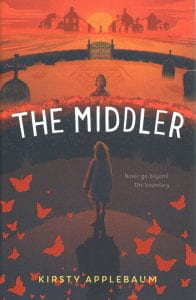 Applebaum, Kirsty. The Middler. Henry Holt and Company, 2020. 978-1-250-31733-9. 262 p. $16.99. Grades 4-7.
Eleven year old Maggie is a middler, nothing special like an eldest, and is mainly ignored and invisible in her town of Fennis Wick. When Maggie meets a "wanderer" who lives outside the boundary, she decides she wants to step up and get noticed by trying to capture her. Once Maggie steps outside her town and into the boundary that has always kept her isolated, everything she has ever known and believed gets turned upside down. Join Maggie in this dystopian adventure that exposes the lies her town has told for years and changes the way of their world forever. Fans of The Giver will love this debut novel!
THOUGHTS: A must purchase for any middle grade library collection.
Fantasy          Krista Fitzpatrick, Waldron Mercy Academy