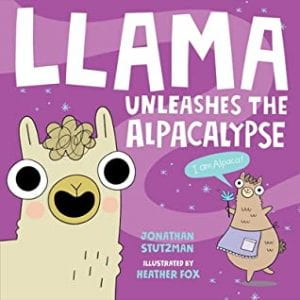 Stutzman, Jonathan. Llama Unleashes the Alpacalypse. Henry Holt and Company, 2020. 978-1-250-22285-5. 40 p. $18.99. Grades K-2.
The follow up to Llama Destroys the World finds Llama doing what he does best – eating, adventuring, and dreaming. One thing Llama does NOT do is clean up messes, so he creates The Replicator 3000, a machine which, as the name suggests, clones whatever – or whomever – is put inside. When Llama's friend Alpaca comes over for lunch, Llama decides to clone her; after all, Alpaca loves cleaning and two alpacas can clean even faster than one. However, by dinnertime, there are millions of alpaca clones roaming the earth. They swarm playgrounds, schools, restaurants, and streets, cleaning everything in their path. The horde of alpacas causes chaos and unrest among the other animals who declare this the end of the world! Llama, however, is not concerned; after all, he is busy eating a cheese pizza with extra cheese, the smell of which lures all the alpacas back to his house. Now Llama pays attention  – there is no way he is going to give up his pizza! Llama is stuck making a difficult decision. He will either have to give up his pizza to the endless parade of alpacas or find a way to reverse the cloning and save his pizza (and the world, of course).
THOUGHTS: Married author/illustrator duo Jonathan Stutzman and Heather Fox have once again created a silly story that is sure to delight young readers. Every child can relate to Stutzman's Llama (after all, most children prefer eating pizza over cleaning) and Fox's illustrations are bright and enticing, showcasing the animals' silly expressions. Another bonus for librarians including this in their collection is that they will be supporting a local author and illustrator: Stutzman and Fox live and work in Lancaster, Pennsylvania.
Picture Book          Danielle Corrao, Manheim Central SD