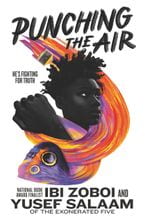 Zoboi, Ibi and Yusef Salaam. Punching the Air. Balzar + Bray, 2020. 978-0-062-99648-0. 400 p. $19.99. Grades 9-12. 
Punching the Air follows Amal Shahid, a talented art student who is seen as disruptive in a prestigious school based on the color of his skin. Early in the book, you learn that he has been caught up in an altercation with other boys, and he ends up being convicted of a crime he didn't commit and sent to jail. Amal turns to words to convey what he's feeling, even if he doesn't understand what he's feeling. This novel is told through poetry which makes it feel so much more powerful than if it was told in a regular novel format. Readers feel so much empathy for Amal and his situation, and there were many points where readers will want to reach through the book and hug him. The lyrical writing gives insight into how young people feel in our justice system: the hopelessness, the fear, as well as the anger. 
THOUGHTS: This is a must read and a must own for every upper middle and high school library. Just be aware of the themes of racism, as well as the descriptions and discussion of jail.  
Novel in verse          Mary Hyson, Lehigh Valley Charter Academy