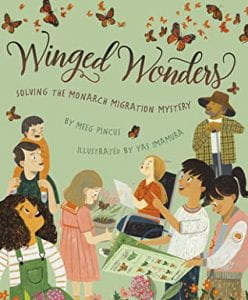 Pincus, Meeg. Winged Wonders: Solving the Monarch Migration Mystery. Sleeping Bear Press, 2020. 978-1-534-11040-3. $17.99. Grades 2-4.
Did you ever wonder who discovered the migration pattern of monarch butterflies?  Pincus explains it all in this beautifully illustrated picture book. She begins with a discussion of how these insects have inhabited North America for centuries, but no one knew where the butterflies went in winter. The answer was revealed in 1976 through the cooperation of scientists, science teachers, gardeners, and many other people. It began with a Canadian scientist who began tagging the butterflies' wings in order to track them. He and his wife placed ads in newspapers throughout the continent, asking people to help with both tagging and searching for them. Finally in Mexico, an American adventurer and his wife located the insects' winter destination with the help of the local people. The author asks readers of today to help save the monarch's food source and habitat before it is too late. Imamura's mostly full bleed drawings are colorful and full of details. The back matter includes a page called "How to Help the Monarch" and more information about the migration discovery.
THOUGHTS:  This is a wonderful nonfiction text that will delight the reader. It is a perfect choice for butterfly or ecology units and is a great read aloud at any time. A first purchase for elementary collections.
595.789 Butterflies          Denise Medwick, Retired, PSLA Member