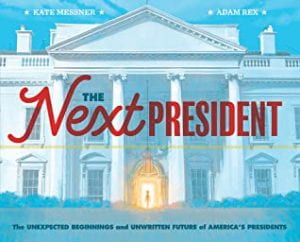 Messner, Kate, and Adam Rex. The Next President: The Unexpected Beginnings and Unwritten Future of America's Presidents. Chronicle Books, 2020. 978-1-452-17488-4. 42 p. $18.99. Grades 3-6.
Now that one contentious election is over, perhaps it is time to look ahead even further to The Next President. Kate Messner takes a unique look at this esteemed position by focusing less on politics and more on the timeline of where upcoming presidents were at key years through our history. Starting with 1789 and president #1, she states that there were already 9 future presidents alive; some were in politics, or law, and a few were just youth who didn't yet know their future careers. Other benchmark years of 1841, 1897, and 1961 show a similar pattern. There are text boxes briefly highlighting a fact for each president at these moments, and Adam Rex does his splendid best with illustrations realistic and humorous to capture the historical moments. Several snapshot moments break up the narrative a bit and focus in on one particular story, such as presidential pets or Teddy Roosevelt's adventures. The end result is an inspiring realization that the youth of today are likely among the future leaders of tomorrow, and they may be "listening, learning, and getting ready to lead" our country into a new, changing world.
THOUGHTS: Extra facts in the notes highlight the past presidents' birthplaces, the requirements to take office, and the changing face of the office as previous barriers are broken for women and people of color. This was before the election, but makes a great discussion point about the potential of the office beyond party affiliation and within the grasp of elementary students. Could easily be paired with So You Want To Be President by Judith St. George, and then some online database sites for further inquiry. Highly recommended.
973 American History    Dustin Brackbill    State College Area SD