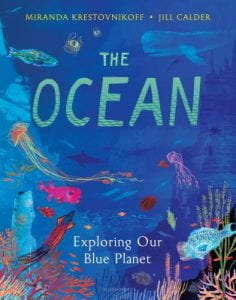 Krestovnikoff, Miranda. The Ocean: Exploring Our Blue Planet. Bloomsbury Children's Books, 2020. 978-1-547-60335-0. $23.99. Grades K-3.
The Ocean is a non-fiction book that focuses on different parts of the ocean, both underwater and above water areas. Each section is broken down into different parts of the ocean. For example there is a section about coastlines, shipwrecks, the polar seas and more. Each section has beautiful illustrations that definitely give an underwater feel to the book as you read. There is a table of contents page; however, there is no index or a glossary in the book, so the reader may need something additional to help them as they read if they are using this book for research.
THOUGHTS: Overall, this is a beautifully illustrated book that gives some more information about the oceans and different animals who live in and around the ocean. This book could not be the only book someone could use for research, but it does make a nice companion as well as a great book for those students who are always interested in learning more. This book makes a nice jumping off point.
551.46 Ocean          Mary Hyson, Lehigh Valley Charter Academy