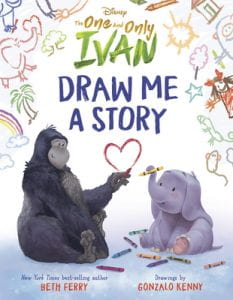 Ferry, Beth, and Gonzalo Kenny. The One and Only Ivan: Draw Me a Story. Disney Press, 2020. 978-1-368-06024-0. Unpaged. $17.99. Grades K-2.
The fictional world of Ivan is growing quite nicely lately, with a captivating sequel as well as a movie to describe the amazing true story of The One and Only Ivan. Now comes a sweet picture book to bring the power of art and stories to connect friends and family. In Draw Me a Story, Ruby the baby elephant learns about life from Ivan's observations of people and then through his pictures. She wants to learn to draw, and gets advice about drawing from the heart and feelings over what she sees. Choosing the right colors and finding similar features helps connect the two different species. Then Ruby wants a whole story. Making a full story from pictures is not really Ivan's style, so he takes a creative mathematical approach to show how this menagerie of animals has become a family. The warm and wonderful drawings from Kenny and the sparse but meaningful text from Ferry help make this a great read aloud or bedtime story for the animal lovers and loved ones in your library.
THOUGHTS: Definitely a great introduction for younger readers and an art extension for those who are already fans of Ivan. This naturally works with an art activity and could extend to a discussion of who defines a family for the students, including all kinds of loved ones in the mix! Recommended.
Picture Book          Dustin Brackbill, State College Area SD