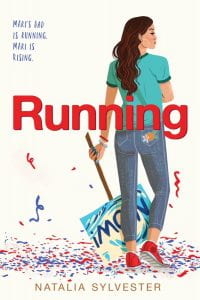 Sylvester, Natalia. Running. Clarion Books, 2020. 978-0-358-12435-1. $17.99. 323 p. Grades 9 and up.
Mari's father, Anthony Ruiz, is running for President of the United States. She is proud of her father and knows he'll make a great president, but she is not so crazy about how much his campaign and potential win will disrupt her life. Not only might he have to move to Washington, but the constant intrusion of his campaign manager, the demanding schedule of interviews and events, and cameras following her around every corner are also exhausting. In school, Jackie, the leader of a student protest group and ruthless editor of the school newspaper seems determined to embarrass Mari with an interview regarding her father's recent comment that was insensitive to his fellow Latin American constituents. Despite everything, Mari can't imagine not supporting her father… until she is assigned a community service project in school and finally talks to Jackie about some of the questionable policies for which her father's campaign stands. The final straw for Mari is when she sees how his campaign platforms affect others she cares about. Like Gloria, the family's beloved housekeeper who feels she has to hide who she is and who she loves for the sake of her boss's conservative campaign. Like Vivi, her best friend whose grandmother is sick because of their water which was allowed to become dangerous because of her father's own legislation. Now, not only is Mari unsure she can support her father's campaign, but she might also have to stand up against it.
THOUGHTS: Inspired by real events in the Florida legislature in 2018, Running is an incredibly timely and important read for teens who may not see eye to eye with their loved ones when it comes to politics but are too afraid to talk about it. It manages to teach important lessons without being overly preachy. Additionally, there is no love plot in this book whatsoever, which is somewhat refreshing and worth noting as many students crave a good story without the romance, and they're often hard to come by. A good addition to any high school collection, and a possible independent read or conversation starter in a Language Arts or Social Studies class.
Realistic Fiction          Sarah Strouse, Nazareth Area SD
TAGS: Presidential election, campaign, student protests, family, father and daughter relationships, Miami, Latinx protagonist, environmental concerns