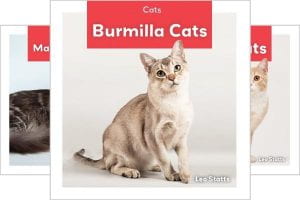 Statts, Leo. Cats. Abdo, 2020. $18.95 ea. $113.70 set of 6. 24 p. Grades K-2. 
Burmilla Cats. 978-1-5321-2709-0.
Maine Coon Cats. 978-1-5321-2710-6.
Manx Cats. 978-1-5321-2711-3.
Persian Cats. 978-1-5321-2712-0.
Scottish Fold Cats. 978-1-5321-2713-7.
Siamese Cats. 978-1-5321-2714-4.
The Cat series is designed to introduce primary-aged students to six types of cats. Each title explores the unique characteristics of the breed, including information on the cat's body, care, personality, and history of the breed. Back matter includes some quick stats on the breed, a glossary and links to online resources. The text is accompanied by numerous engaging photos that illustrate characteristics of the breed as well as photos of cats at rest and at play.
THOUGHTS: This series is guaranteed to be a hit with fans of felines! Young readers are sure to enjoy the high-quality photos and the text, while simple, is highly informative. The series contains a nice mix of familiar (Siamese) and less-familiar (Burmilla) cats. Libraries serving primary students looking to refresh or expand their cat non-fiction collections should certainly consider this series for purchase.
636.8 Cats          Elizabeth Henry, Lampeter-Strasburg SD