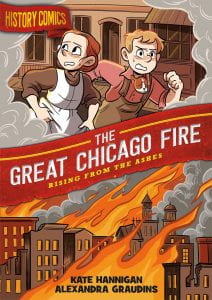 Hannigan, Kate. The Great Chicago Fire: Rising from the Ashes. First Second, 2020. 978-1-250-17425-3. 119 p. $19.99. Grades 4-8.
Everyone knows Mrs. O'Leary and her cow – at least everyone in Chicago does! The Great Chicago fire of 1871 was devastating and destructive to this wooden city. This graphic novel tells the story of the Great Chicago fire through the eyes of two children, Franny and John Patrick Fitzgerald, who get separated from their parents in order to get a puppy back to it's mother. The story explains how the fire supposedly was started,how it traveled across the river, and the struggle to save the city. The duo must change course, help others, and stick together to outrun the blaze. The story also tackles the xenophobia of Irish immigrants and how it caused the people of Chicago to blame Mrs. O'Leary (and her cow). The illustrations capture the burning Chicago with detail and will delight the reader while pulling them into the past.
THOUGHTS: This historical graphic novel (by the creators of Science Comics) does a fantastic job of telling the story of the Great Chicago fire with colorful illustrations and short bursts of text. This series is sure to delight fans of graphic novels and history! The extra information provided in the back is a bonus for students who want to know more about the Chicago fire and the Columbian Exposition in 1893.
973 Graphic Novel          Jillian Gasper, Northwestern Lehigh SD