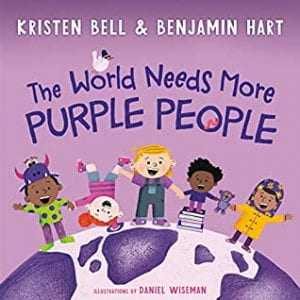 Bell, Kristen & Hart, Benjamin. The World Needs More Purple People. Random House Books for Young Readers, 2020. 978-0-593-12196-2. 40 p. $17.99. Grades PreK-2.
You can hear Kristen Bell's voice on every page in this adorable story about the importance of being an everyday hero. The moral of the story is to work hard, bring the community together, and use your voice. This book does not offer answers to some of the world's toughest current issues, but it does offer a primer in recognizing that the world isn't perfect and it's hard to be angry if you're laughing.
THOUGHTS: Although the book isn't explicitly political, I do wonder if purple comes from combining red and blue (political party colors). A quick, silly read that can keep the attention of the youngest readers.
Picture Book          Samantha Hull, Ephrata Area SD