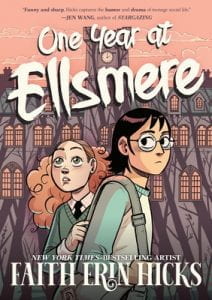 Hicks, Faith Erin. One Year at Ellsmere. First Second, 2020.  978-1-250-21909-1. 166 p. $19.97. Grades 5-8.
Juniper knows she will not fit in at her fancy new private school–child of a single mother, lower income, scholarship student–and she is prepared. She is at Ellsmere for the academics, and if her classmates don't like her, that's just fine. She probably won't like them either. So it is no surprise when she lands on the radar of mean girl Emily. Jun thinks she can handle her, but this time she may have met her match. Luckily, Jun has her roommate, Cassie, as a friend and ally. She will need her if she is going to survive her first year at Ellsmere.
THOUGHTS: Perfect for fans of Smile and Jennifer L. Holm's Sunny books who are looking for something a little darker with more drama. There are some fantastical elements at the end that are not really necessary, but overall it's a good add for a middle school graphic novel section.
Graphic Novel          Melissa Johnston, North Allegheny SD