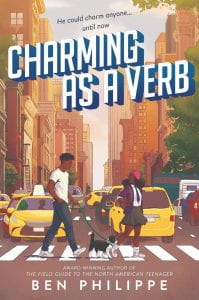 Philippe, Ben. Charming as a Verb. Balzar + Bray, 2020. 978-0-062-82414-1. 336 p. $18.99. Grades 9-12.
Ben Philippe has yet to write something that I don't fall in love with almost immediately. Henri Haltiwanger in Charming as a Verb is no exception to the rule. Henri attends a prestigious private school in New York City, on scholarship, and is surrounded by classmates who have more money and connections than he does. Henri's positive attitude, charm, and hustle drive him to be a star debater, friendly with just about all the students, and manages and works his own dog walking empire. When it's time to apply for colleges, his dream school, Columbia, seems just out of reach, despite being blocks away. Along the way Henri makes a friendship he didn't think he would, and a decision or two that seem out of character, but Philippe maintains a realistic pulse on teenage life.
THOUGHTS: High school libraries looking to enhance their realistic collection with a story told through the lens of someone who fits in from an observer's perspective but really doesn't feel a sense of belonging should add this book to their collection. A relatively light read with a happy ending can go a long way after a year like 2020.
Realistic Fiction          Samantha Hull, Ephrata Area SD