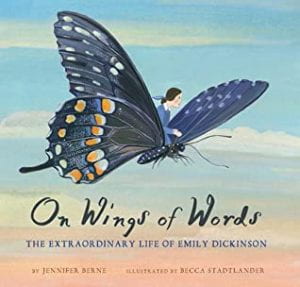 Berne, Jennifer. On Wings of Words: The Extraordinary Life of Emily Dickinson. Chronicle Books, 2020. 978-1-452-14297-5. Unpaged. $18.99. Grades 3-5.
This picture book about the famous poet focuses on how Dickinson's poetry expressed her vision of the world. Emily began writing poetry as a young girl. Her poetry showed her love of nature and the joy she experienced from reading books and from her friendships. As Emily grew older, she became more contemplative and began to question her faith. After a time, she became reclusive and searched for answers by looking within herself and by writing verses. After her death, Emily's sister found hundreds of her poems tucked away in boxes, trunks and closets, which were then shared with the world. In the back matter, the author advises young readers how to appreciate poetry and how to begin writing their own. Berne also discusses how readers of Dickinson's poetry find something new to discover with continued readings. The illustrator explains in her note that her drawings were based on historical images, like the picture of the house where Emily was born. Stadtlander uses gouache and watercolor to create folk art style drawings that showcase the natural world. The book is sprinkled throughout with drawings of flowers, trees, rivers and especially butterflies. The factual text is accompanied by an excerpt of Dickinson's poetry, which is handwritten and which also appears on the endpapers.
THOUGHTS: This book is a more serious look at the thoughts and emotions of Emily Dickinson. Some of the discussion is rather deep, like her view on sadness and her later solitary life. Yolen's Emily Writes: Emily Dickinson and Her Poetic Beginnings is a less serious recounting of the poet's life and more accessible to younger readers. Save this one for thoughtful and sensitive readers.
921, 92 Biography          Denise Medwick, Retired, PSLA Member
811 Poetry