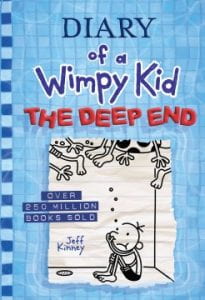 Kinney, Jeff. The Deep End (Diary of a Wimpy Kid). Amulet Books, 2020. 978-1-419-74868-4. $14.99. 217 p. Grades 4-8.
I have to admit–I thought the last few "Wimpy Kid" books left something to be desired…but Jeff Kinney and Greg are back, and Greg is in rare form. After the Heffley home disaster in "Wrecking Ball," the family decides to escape from their temporary digs in Gramma's basement and take a family vacation in Uncle Gary's RV. Sounds great! What could possibly go wrong? Accidental trespassing on farms and baseball fields, water tubing mishaps, and an epic few days at Campers' Eden Luxury Campground all make The Deep End one of the best Wimpy Kid books in the past few years. Kinney's signature illustrations are as funny as ever.
THOUGHTS: Your readers will love Greg's new adventures.
Realistic/Humorous          Lindsey Long, Lower Dauphin SD