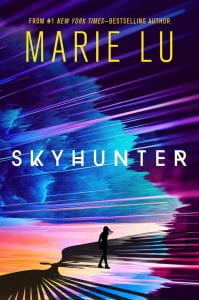 Lu, Marie. Skyhunter. Roaring Brook Press, 2020. 978-1-250-22168-1. $19.99. 384 p. Grades 9-12.
Talin lives in the futuristic nation of Mara, and she is a striker. Every striker has a shield, a partner during a fight against the ghosts, the once human turned zombie experiments created by the Karensa Federation. If a striker's shield is attacked by a ghost, it becomes their responsibility to end their shield's life before he or she turns into a federation ghost as well. Mara and Karensa are at war, but Mara is losing since they do not have the technology of the "early ones" that Karensa has discovered and used to its advantage. Although Talin lives and fights for Mara, it hasn't always been her home. Talin and her mother fled from Basea to Mara years ago when it was under attack from Karensa, and after inhaling poisonous gas, she lost her ability to speak when her throat was badly damaged. Referred to as a "rat" by many Marans, she found her place among the strikers who commonly communicate with sign language in order to sneak up on the ghosts they hunt. When the strikers capture a strange Karensa prisoner, Talin steps in to save his life, and as a punishment for her actions, he becomes her shield and her responsibility. It doesn't take long for Talin and her fellow strikers to discover that this prisoner, called Red, is a new "weapon" of the Federation and possibly the key to their salvation from Karensa. Talin and Red soon form an inseparable bond, and together, they plot to bring down the Federation that has taken so much and caused them both so much pain.
THOUGHTS: Readers will quickly discover that when Talin speaks of "the early ones" she is speaking of the world in which we currently live. It certainly adds some mystery to the story since Talin isn't sure exactly what destroyed the early one's civilization and brought upon the current nation of Mara and the Federation of Karensa. Talin, who is Basean, not Maran, must endure some pretty harsh racism from the Marans who consider her to be beneath them, along with the rest of the Baseans living in poverty within the nation of Mara since Basea was destroyed and conquered. So many of the same issues that exist in today's world are present in this futuristic society, and fans of Marie Lu, science fiction, action, or popular shows like The Walking Dead will enjoy Skyhunter. 
Fantasy          Emily Hoffman, Conestoga Valley SD