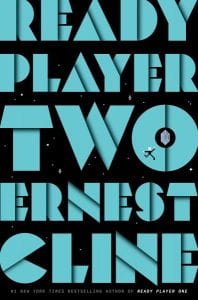 Cline, Ernest. Ready Player Two. Ballantine Books, 2020. 978-1-524-76133-2. 370 p. $28.99. Grades 9 and up. 
Wade Watts has won the contest. He's rich, he's famous, he's living the life of his dreams? Inheriting billions of dollars and taking control of GSS has left Wade wrapped up in a lavishly padded but empty life. With robotic staff at home and avatars inside the Oasis, Wade very rarely interacts with actual, physical people. While the rest of the High Five move on, creating great lives and names for themselves, Wade is left behind. That is until the unexpected happens and the High Five are thrown back together again, with a new race to save the Oasis. One with even greater consequences than before.
THOUGHTS: Ready Player Two is as much an action-packed whirlwind as the first. Readers will delight in meeting friends, old and new, that change the face of humanity.
Science Fiction          Samantha Helwig, Dover Area SD
Wade Watts has just won James Halliday's contest and, along with his friends, the high five, has become one of the new co-owners of Gregarious Simulation Systems. As James Halliday's heir, he now wears the robes of Anorak while in the Oasis, giving his avatar Parzival unlimited power. Days after winning the contest, Wade also discovers a new technology called ONI (Oasis neural interface) which has never been released to the public. Halliday specifically left this technology to his heir, and Wade, along with his co-owners Aech, Art3mis, and Shoto, has to decide if the world is ready for this technology. Only Art3mis objects, and soon the world starts experiencing the Oasis in a new and improved way. Wade quickly becomes addicted to the new ONI experience, and lives a very solitary life, always waiting to get back into the Oasis. However, when a new quest is revealed, similar to Halliday's egg contest in the previous installment, Wade needs all of the help he can get, from both old friends and new, and Parzival must once again step up to the challenge to save the Oasis while keeping ONI users out of danger.
THOUGHTS: The futuristic setting of both Ready Player One and Ready Player Two doesn't seem as unrealistic as it did to me when I first started this series. One of the benefits of the Oasis is that people can interact safely without the fear of spreading disease, and they often reference a terrible flu that killed millions before the Oasis became so widely used. Since so many of our interactions in 2020 were virtual, it makes me wonder if something like the Oasis will be in our future as well. I'm glad this book picked up right where book one left off, and the events that transpired after didn't come as too much of a surprise to me either. Readers must remember how young Wade Watts is, and after inheriting everything from James Halliday in the previous book, it only makes sense that he's not always going to make the right choices after becoming a billionaire overnight. Mostly, I loved all of the 80s pop culture references, especially the John Hughes planet inside of the Oasis! It was a nice wrap up to events set in motion in Ready Player One, and a perfect book to read during these primarily virtual times.
Fantasy          Emily Hoffman, Conestoga Valley SD