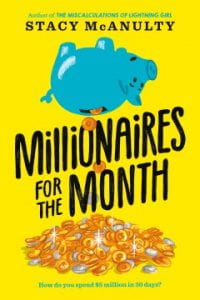 McAnulty, Stacy. Millionaires for the Month. Random House, 2020. $16.99. 323 p. Grades 3-6. 
When Felix and Benji are partnered for a seventh grade field trip in New York City, neither expect to have a great trip–Felix and Benji aren't exactly pals, and they couldn't be more different. Little do they know that a quick forbidden trip to a pretzel cart in Central Park will change their lives forever. Felix finds a lost wallet, Benji borrows $20 for a better lunch, and they decide to turn in the wallet to a nearby police officer, but not before Benji slips in a note about who found the wallet. Why? The wallet belongs to social network billionaire Laura Friendly. She ultimately offers the boys a generous reward, but after a private chat with the boys about the "borrowed" $20, she changes her offer in an attempt to make the boys see that every penny counts. If they can spend $5,368,709.12 (a penny doubled everyday for 30 days) in one month without telling their parents, and abiding by some spending rules, she'll give them each $10 million. If they can't, they're left with nothing. Felix and Benji get right to work buying T Rex skulls, tons of new sneakers, pizza lunches for their whole school, and a trip to Disney World. It sounds like a dream come true until the boys quickly realize that the things they want most, like making the seventh grade basketball team and making their parents proud, can't be bought with Laura Friendly's money. There are lots of twists and turns, typical middle school drama, family troubles, and the best "freebie" around.
THOUGHTS: Another winner from Stacy McAnulty–this fun, fresh concept will keep kids reading!
Realistic Fiction          Lindsey Long, Lower Dauphin SD
Felix Rannells and Benji Porter were paired together on a school field trip. Rule follower Felix is thrilled to be paired with rule bender Benji, but when they find a wallet of tech billionaire Laura Friendly they decide to do the right thing and return it, but not before Benji "borrows" $20 for hotdogs and soda. Because what's $20 to a billionaire? It's like a penny, right? When Friendly finds the boys at their school a few days later, she notices her missing money and challenges the boys to spend a penny doubled everyday for 30 days, which totals $5, 368,709.12! Easy and fun? Not so fast. The boys soon learn that money can't buy everything, and spending the money isn't nearly as fun as they thought.
THOUGHTS: A must purchase for any middle grade library collection. McAnulty's middle grade books are a perfect fit for every middle grade library!
Realistic Fiction          Krista Fitzpatrick- Waldron Mercy Academy