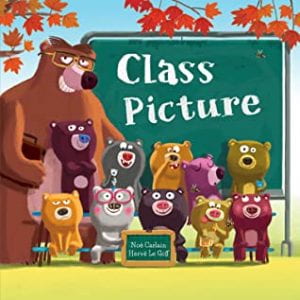 Carlain, Noe, and Herve Le Goff. Class Picture. Kane Miller EDC Publishing, 2020. 978-1-684-64112-3. Unpaged. $12.99. Grades K-2.
The full classroom photo may be a thing of the past, especially in this day and age, but the concept of gathering students to try and pose for a picture will always be a memorable moment. So, replace squirmy Kindergarten kids with beavers, bears, monkeys, snakes, elephants, and more for a real laugh of a book! With some repetitive wording and hilarious visual gags, each class of animals arrives for their moment with the brave and mostly patient photographer. Whether the hippos are bending the bench or the beavers are eating it, there are group and individual personalities that shine, along with some cameos from other animals to keep things interesting. Young readers will enjoy saying cheese to this colorful fun read along!
THOUGHTS: With a dozen animal sets captured in this book, several research or creative writing extensions are naturally available. From adding captions or speech bubbles to the class characters to looking up habitats and group names for each page, learners will find fun ways to keep coming back to this book. Recommended.
Picture Book          Dustin Brackbill, State College Area SD