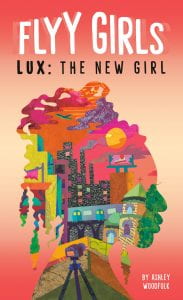 Woodfolk, Ashley. Lux: The New Girl. Penguin Workshop. 2020. 978-0-593-09602-4. 139 pp. $15.99. Grades 6-9.
Lux Ruby Lawson has had a default setting – pissed – ever since her dad left. She was kicked out of her old school for fighting, and her mom has put her on notice: if she messes up again, she'll have to go live with the father who walked out on her, the same father who just welcomed a new baby girl. Lux wants to stay out of trouble, but when a classmate pushes her too far the ensuing scuffle is captured on multiple cell phone cameras. Lux is expelled and relocated to her dad's apartment. Through a connection and a strong interview, she's accepted at Augusta Savage School of the Arts in Harlem, to pursue her interest in photography. She makes friends with the "Flyy Girls," Noelle, Tobyn, and Micah (each of whom takes center stage in subsequent installments of the Flyy Girls series). But Lux worries about what will happen if the videos of the fight resurface and her new friends discover the past she's kept hidden. Ashley Woodfolk packs a lot into just 141 pages: family dynamics, friend drama, mild romance, school pranks, and even a photography assignment for the school paper. Each character's personality is vibrant and distinct, and Lux is believably flawed. Her evolution, from a girl who settles scores with a punch to a more mature friend and daughter, is the endearing core of the novel.
THOUGHTS: Lux: The New Girl is an excellent hi-lo series starter to add to school library collections, and more importantly to read and discuss with students. It would pair well with Fights: One Boy's Triumph Over Violence by Joel Christian Gill for a professional book study.
Realistic Fiction          Amy V. Pickett, Ridley SD