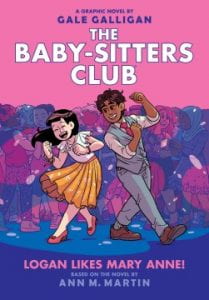 Galligan, Gale. Logan Likes Mary Anne! (The Baby-Sitters Club). Graphix, 2020. 978-1-338-30455-8. $24.99. 164 p. Grades 3-6. 
It's time to start eighth grade, and Mary Anne is excited but nervous. The BSC is busier than ever, Mary Anne just might get up the nerve to ask her father for a kitten, and school is going well…enter Logan Bruno, the movie star look-alike new kid from Louisville. He's fun, cute, and loves kids! When the BSC sends Logan and Mary Anne on a baby-sitting job together, they hit it off and Mary Anne and Logan start hanging out more often, including going to a big dance together. After some embarrassing moments and misunderstandings, Mary Anne and Logan's relationship blossoms. Other highlights: Jessi Ramsey makes her first appearance in Stoneybrook, Mary Anne adopts kitten Tigger with her father's blessing, and Jessi and Logan become BSC members. While I favor Raina Telgemeier's illustration style over Gale Galligan's, Galligan adapted Ann M. Martin's chapter book well and gave the story and characters some great updating. Also, while the original Logan was blonde and blue-eyed, Galligan's Logan is Black, adding a welcome and realistic diversity to the BSC.
THOUGHTS: A solid addition to a very popular series.
Graphic Novel                Lindsey Long, Lower Dauphin SD