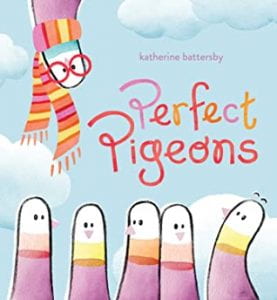 Battersby, Katherine. Perfect Pigeons. Simon & Schuster, 2020. 978-1-534-45781-2. Unpaged. $17.99. Grades K-2. 
Look up! A flock of brightly colored pigeons is in the sky! According to members of the flock, they are perfect pigeons, because they are all "perfectly the same." While the pigeons might certainly all look the same, it is quickly apparent to readers that one pigeon is different from the rest. He sports round red glasses and doesn't like to participate in the same activities as the rest of the flock. For example, when the flock sleeps on a lamppost, he sleeps in a hammock. While the flock eats birdseed, he can be found enjoying popcorn. The flock soon grows frustrated with their fellow pigeon, challenging his go against the grain attitude and habits. But rather than give into peer pressure, the pigeon encourages the flock to pursue their own individual interests and hobbies (which they do). By the end of the story, the flock still feels that they are perfect pigeons, but they now feel that way because they are "are all perfectly unique!"
THOUGHTS: This charming story celebrates the importance of valuing the uniqueness of others. Readers will enjoy the humorous illustrations featuring large, colorful pigeons created in pencil, watercolor and digital media by author-illustrator Katherine Battersby. A worthwhile addition to libraries serving primary age readers.
Picture Book                Elizabeth Henry, Lampeter-Strasburg SD