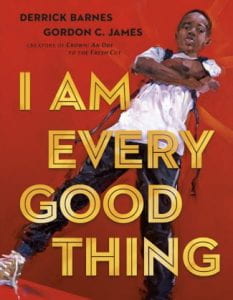 Barnes, Derrick. I Am Every Good Thing. Nancy Paulson Books, 2020. 978-0-525-51877-8. 32p. $17.99. Grades K-3.
I Am Every Good Thing is a poem that talks about the resilience, challenge, and beauty of being a child. It demonstrates children doing different activities such as making snowballs, riding a skateboard, swimming, and many other activities that children might do throughout their life. The narrator of this book adds to the feeling of "I can do anything I set my mind to" which is carried over with the illustrations. The illustrations done by Gordon James showcase the poetry beautifully and contribute to the feeling the narrator gives throughout the poem.
THOUGHTS: This is a beautiful book that is a vital addition to every school library collection.
Picture Book          Mary Hyson, Lehigh Valley Regional Charter Academy