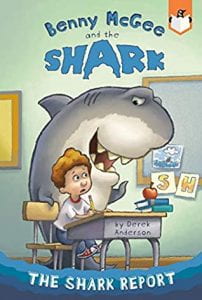 Anderson, Derek. The Shark Report (Benny McGee and the Shark Book 1). Penguin Workshop, 2020. 978-0-593-09338-2. 64 p. $15.99. Grades 1-3.
Benny McGee is scared of swimming in the ocean because of sharks. He knows a lot about sharks because he is learning about them for a school report. When a shark appears at his house, Benny doesn't know what to do. His father suggests Benny invite the shark in, so he does, thus beginning his friendship with the shark. When Benny's shark report is due and he realizes he never wrote it, he decides to take Mr. Chompers with him to school as his report. But, Benny forgot today is also the day the deep-sea fisherman is scheduled to visit his class.  When the deep-sea fisherman sees Mr. Chompers, Benny must decide which is more important: his report or his new friend.
THOUGHTS: This early chapter book is a fun, fact-filled read.  Anderson includes lots of accurate information about sharks while keeping the narrative light-hearted. Emerging readers will enjoy Mr. Chomper's shenanigans while also connecting with Benny's fears and how he overcomes them. Book 2 of Benny McGee and the Shark, We are Famous, is also available now.
Early Chapter Book          Erin Bechdel, Beaver Area SD