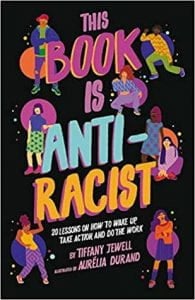 Jewell, Tiffany. This Book Is Anti-Racist: 20 Lessons on How to Wake Up, Take Action, and Do the Work. Frances Lincoln Children's Books, 2020. 978-0-711-24521-1. 160 p. $13.09. Grades 5-8.
This handbook provides readers with the answers about racism in America that young people seek but many adults do not have the answers to. Readers will explore more about themselves, how racism came to be, why it has yet to disappear, and how to actively work against racism. A glossary of terms will help beginners understand novel vocabulary words like complicity, assimilate, neurodiverse, and  BIPoC. Graphic art colors every few pages, and activities are provided at natural stopping points to help the reader fully understand and reflect on difficult concepts. The author writes about their own experience so that those who have experienced racism feel heard and others learn about a real person's experience with racism. Although this book teaches readers about social activism, its main purpose is for readers to help dismantle and work toward ending racism.
THOUGHTS: This book can be used as a workbook to help discover more about oneself or used in book clubs to encourage conversation with others. I recommend this book to every educator seeking to better support their students. I personally like that it is small enough to be carried in a purse, backpack, or back pocket. Any person troubled by current events will benefit from reading this book, especially the section about Taking Action and Responding to Racism.
305.8 Racism          Jaynie Korzi, South Middleton SD