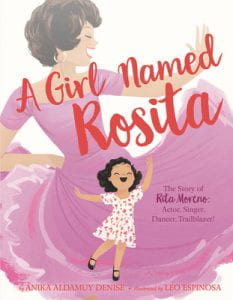 Denise, Anika Aldamuy. A Girl Named Rosita: The Story of Rita Moreno, Actor, Singer, Dancer, Trailblazer! Harper, 2020. 978-0-062-87770-3. 40 p. $17.99. Grades K-3.
Rosita Alverio lives between a mountain and a rainforest in Puerto Rico. But soon after turning five, she and her mother board a steamship bound for America and a new life. In order to make ends meet, her mother works as a sweatshop seamstress. It is not a lot of money, but there is enough to spare so Rosita can take dance lessons. With her perfect twirls and her charismatic charm, Rosita quickly becomes a minor celebrity. She dances for the troops, acts on the radio, and even records Spanish versions of hit Hollywood movies. But soon, Rosita's life changes when she meets with Louis B. Mayer, the head of MGM film studios. Shortly after, she becomes Rita Moreno and goes on to become one of the most famous Latinx stars in the world.
THOUGHTS: Fans of Rita Moreno will love this book as it gives a glimpse into the star's life before fame. However, even readers who do not know of Moreno will appreciate her journey: a real life rags-to-riches story with a Latinx person at the center of it all. Leo Espinosa's stunning illustrations make it seem as though Moreno is twirling off the page. This is a must-have for elementary librarians looking to expand their biography section.
921 Rita Moreno          Danielle Corrao, Manheim Central SD