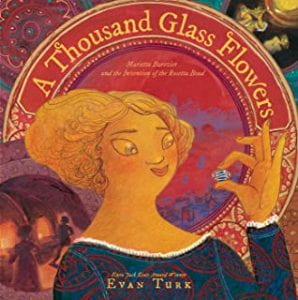 Turk, Evan. A Thousand Glass Flowers. Atheneum Books for Young Readers, 2020. Unpaged. 978-1-534-41034-3. $17.99. Grades K-2
This nonfiction biography tells the story of Marietta Barovier who came from a family of glassblowers, and her journey to becoming the first woman given permission to open her own furnace in Venice. The story begins with her as a small girl watching her father create glass until he allows her to try, and her passion for glassmaking grows from there. The end of the book contains an author's note, which really adds to the story as there is not much known of her, because glassblowing was a male dominated industry. Marietta is credited with creating the rosetta bead, which was used as a currency!
THOUGHTS: This is a wonderfully illustrated biography that will introduce readers to Marietta Barovier and the world of glassblowing.
Biography          Mary Hyson, Lehigh Valley Regional Charter Academy