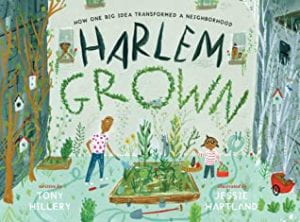 Hillery, Tony, and Jessie Hartland. Harlem Grown: How One Big Idea Transformed a Neighborhood. Simon & Shuster Books for Young Readers, 2020. 978-1-534-40231-7. Unpaged. $17.99. Grades K-2.
Food deserts are real inner city problems for some, but a food oasis can grow with opportunity and effort. Such is the case in Harlem, where a run down and empty lot across from PS 175 elementary school became something more. With the author, Tony Hillery's inspiration, volunteers helped clear the land, create a garden space, and grow a community closer together. With some learning and further developing the space, they created a rainbow of vegetables, fruits, and herbs which could be harvested and used by the local families. The story is simple and true, with easy to read aloud text and colorful gouache illustrations to keep youngsters attention. With endnotes and extra resources, this meaningful dream became reality to those who needed to see something good grown in an urban farm.
THOUGHTS: The process and steps from farm to table are quickly taken for granted by many, in both urban and rural areas. Researching where food comes from and travels to reach a market is a valuable citizenship lesson. This book could inspire many other community gardens to grow!
635 Agriculture          Dustin Brackbill, State College Area SD
Young Naveah attends school at PS 175 in Harlem, across from an abandoned lot so filled with clutter that she thinks of it as "the haunted garden." Mr. Tony volunteers at the school and decides to make a change which will impact the lot, the kids, and the community. Mr. Tony invites Naveah along with other students to participate in the building, planting, and tending of a youth garden. Together, they plant four hundred seedlings to represent each of the children who help. Things get off to a good start until Naveah notices her plants wilting. With a growth mindset attitude, Mr. Tony helps the community try again, this time building raised beds. Finally, locally grown produce makes its way to the family dinner table. Gouache illustrations throughout add vibrance to the story, particularly with spreads showing the transformation from a littered gray lot to bustling green space. Both of the main characters are Brown-skinned and wear glasses. While Navaeh styles her hair in braids with a variety of bows and barrettes, Mr. Tony is bald except for his beard. Neighborhood scenes depict a diverse array of community members. Based on the true story of  Harlem Grown, a farm which has provided thousands of pounds of food to youth and families in Harlem without charge. Backmatter includes a letter from the author and Founder Tony Hillery, a step-by-step guide to starting a garden, and a list of additional resources.
THOUGHTS: A nice read aloud introduction to community gardening and overview of Harlem Grown for young learners.
Picture Book          Jackie Fulton, Mt. Lebanon SD
635 Agriculture