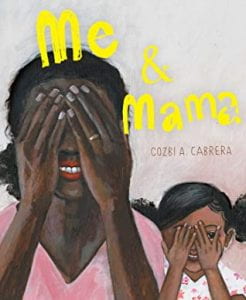 Cabrera, Cozbi A. Me & Mama. Denene Millner Books, 2020. $17.99. 978-1-534-45421-7. 32 p. Grades PreK-1. 
A young girl walks readers through an average day spent with her loving Mama. On the end paper, a series of mother/daughter still-life objects are presented: a large wooden spoon alongside a smaller version; a red bicycle and a tricycle; a knit winter cap next to one with fuzzy ears and pigtails. Through this series of objects, the reader gets a glimpse of the young girl's admiration for her mother as she points out their similarities and differences in a distinctly wondrous and childlike way. Over breakfast she shares how Mama's dainty tea cup "goes clink, clink, clink with a spoon" while her red sippy cup "goes duh, duh" yet together they sing like a chorus for their morning ritual. Later, she tells readers that Mama's red rain boots are "bigger than my yellow ones" following up with an explanation that their dog, Max,"doesn't wear boots." After a day of errands and rain puddles, Mama reads a story and tucks in the girl and her brother, Luca. Although her brother seems to fall asleep immediately, the young narrator has just enough time to reflect on the day and familial love as she too drifts off. Stunning full-bleed acrylic illustrations feature detailed portraits of Mama, Luca, and the young girl with their beautiful varying shades of rich Brown skin and dark hair worn in a variety of styles throughout the day.
THOUGHTS: This lovely picture book immortalizes the precious mundane moments that make up a relationship between mother and daughter. Papa and brother Luca are also mentioned throughout, creating a snapshot day in the life of one happy family.
Picture Book          Jackie Fulton, Mt. Lebanon SD