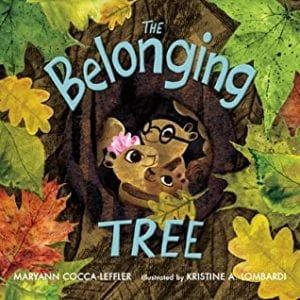 Cocca-Leffler, Maryann. The Belonging Tree. Henry Holt and Company, 2020. Unpaged. 978-1-250-30513-8. $18.99.  Grades PreK-1.
A community of happy squirrels lives on Forest Lane.  The Gray squirrel family, Ma, Pa, and Little Zeke, love their old oak tree home and enjoy eating, working and playing with their squirrel neighbors. Then in summer, some blue jays arrive and their noise disturbs Ma and Pa, but Zeke enjoys their singing. In the fall, a chipmunk family with many babies appears and gets busy gathering acorns. Zeke loves feeding the babies, while his parents are concerned about a nut shortage. All is peaceful through the winter, but in spring some busy beavers move in and start building dams. Ma and Pa fear the beavers will down all the trees, but Zeke is amazed by what they have built. The parents decide to move across the river to get away from these other animals. That night, during a storm, the squirrel family's new home is destroyed. They are rescued through the efforts of their former animal neighbors and quickly realize that the best neighborhood is one where everyone belongs. The author has created a book that shows the value of community and how it is important to include and accept our neighbors. Lombardi's colorful drawings were created with watercolor and Adobe Photoshop. The full bleed illustrations are charming and the squirrels are drawn with large expressive eyes. Children will love the illustration of Zeke feeding the young chipmunks with a baby bottle.
THOUGHTS: This story is a wonderful discussion starter about communities and the importance of diversity and tolerance. It is a great read aloud and a worthwhile purchase for all elementary collections.
Picture Book          Denise Medwick, Retired, PSLA Member