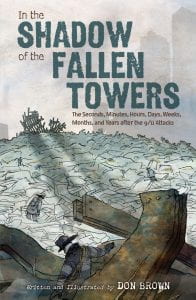 Brown, Don. In the Shadow of the Fallen Towers: The Seconds, Minutes, Hours, Days, Weeks, Months, and Years after the 9/11 Attacks. Etch / Houghton Mifflin Harcourt Books for Young Readers. 2021. 978-0-358-22357-3. 121 p. $21.99. Gr. 6-9.
Don Brown excels at creating graphic nonfiction that introduces pivotal events in U.S. history to young readers. His previous titles explore the 1918 flu pandemic, the Dust Bowl, Hurricane Katrina, and more. Now, with the twenty-year mark approaching, In the Shadow of the Fallen Towers captures the tragedy, heroism, and aftermath of the September 11, 2001, terrorist attacks in New York City, Washington D.C., and Pennsylvania. Panels depicting the day of the attacks feature chalky, muted tones that represent the ash covering "Ground Zero" and the smoky hallways of the Pentagon. Bright orange flames also appear throughout. Expository text accompanies the artwork, along with first-person speech bubbles from eyewitnesses, first responders, George W. Bush, soldiers, and survivors. As the subtitle suggests, the author's timeline incorporates the months and years after 9/11, including the grim victim recovery efforts, the massive clean-up, and the invasion of Afghanistan. Highly controversial topics, such as "enhanced interrogation" of suspected terrorists, are also briefly mentioned.
THOUGHTS: Don Brown's books leave readers wanting to know more, which is a good thing; they are introductory overviews of events that will hopefully lead young readers to further, more comprehensive sources.
973 American History          Amy V. Pickett, Ridley SD
Graphic Nonfiction