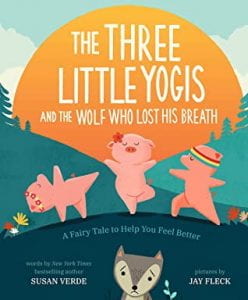 Verde, Susan. The Three Little Yogis and the Wolf Who Lost His Breath. Abrams Books for Young Readers, 2020. $16.99. 978-1-419-74103-6. Grades K-3. 
In this fractured fairy tale, the wolf has a habit of huffing, puffing, and blowing things down when he feels angry. Before long, the wolf realizes he feels worse when he sees how his behavior frightens others. There are so many things to huff about like sharing, trying difficult things and feeling hungry that the wolf runs out of breath. Turning his frustrations toward the three little yogis, he is met with compassion. Instead of running away, they teach him to mediate, breath, and pose. Readers are reminded that everyone gets angry sometimes. Belly breathing, butterfly breaths and supported breathing techniques help the wolf finally feel relaxed. Common terminology from sun salutation to savasana is introduced. A few yoga poses such as downward dog and half-moon are sprinkled throughout. Social emotional learning themes are present as the wolf becomes aware of his behaviors, reflects on his feelings and practices new techniques in lieu of huffing and puffing. Pencil and digitally colored illustrations fill the pages with a healthy dose of tranquil whimsy. Backmatter includes a few brief but useful tips for budding yogis.
THOUGHTS: This book is a must-have for libraries looking to develop their lower elementary collection of books about breathing, meditation, and yoga. A great picture book to pair with an interactive yoga storytime for young learners.
Picture Book          Jackie Fulton, Mt. Lebanon SD