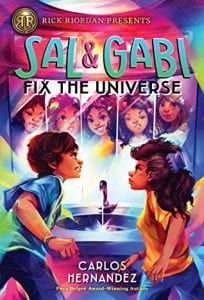 Herandez, Carlos. Sal and Gabi Fix the Universe. Disney, 2020. 978-1-368-02283-5. 423 p. $16.99. Grades 4-7. 
This sequel to Sal and Gabi Break the Universe picks up shortly after the end of the first book. Sal's father, a calamity physicist, is convinced he has perfected the remembranation machine to close the wormholes in the multiverse created by Sal and Gabi. This is great news! So why does Sal feel so empty? Cuban-American Sal Vidón, seventh grade magician extraordinaire and his friend-who is-a-girl-but-NOT-his-girlfriend Gabi Reál knew they created chaos when they manipulated the wormholes previously. Yet something is obviously wrong. Then Gabi from another universe (dubbed Fix-It- Gabi) shows up and explains to Sal that his reaction to the activation of the remembranation machine was a result of being cut off from the multiverse. Repairing the membrane between the multiverses will actually destroy Sal's universe, Fix-It Gabi declares. She has seen it happen in other universes. But Sal, who adores his family, can't believe his Papí is a force of evil. On top of saving the multiverse, Sal has problems closer to home, including saving his school's ambitious Rompenoche performance of Alice in Wonderland scheduled for Parent Night in just a week. The cast of characters in the book series is over-the-top delightful. Family dynamics are explored as Sal adjusts to his new stepmamí, and Gabi deals with a contingent of dads, male, female, and robotic. Artificially Intelligent characters, including Vorágine, the AI toilet at Sal's school, as well as the newly aware remembranation machine add to the fun. Set in Miami, the book celebrates the vibrant city as well as Cuban culture, frequently integrating Spanish dialog. Sal's type 1 diabetes also plays an integral part in the story, as it does in Sal's life. The downside to all this joie de vivre can be feeling a bit like encountering a cyclone. Hernandez does not waste time with exposition. No recap or backstory is provided to bring readers up to speed. This is a delightful, clever sequel, but will work best if read immediately after the first book, while all events and characters are fresh in the reader's mind. There are also some political allusions that feel out-of-place in a book aimed at 10-year-olds, who will likely not catch or understand the comments.
THOUGHTS: This is a riotous ride of a book that is definitely not a stand-alone. While filled with fart jokes and talking toilets, the book also addresses more serious issues such as diabetes, death, and abusive parents. Keeping up with the multiverse of characters is also challenging. Hand this series to readers who like books with humor, or use for a class read-aloud.
Science Fiction          Nancy Nadig, Penn Manor SD