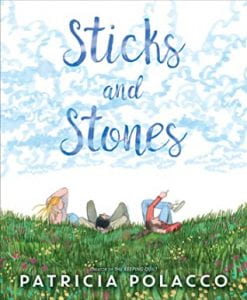 Polacco, Patricia. Sticks and Stones. Simon & Schuster, 2020. Unpaged. 978-1-534-42622-1. $18.99. Grades 2-4.
In another story based on her childhood, Polacco has created a heartwarming tale about the school year she spent with her father in Michigan. Trisha is eager to start middle school with her summer friends, but they desert her at the front door. She is on her own until a skinny boy with glasses called Thom helps her find her first class. The pair sits with a quiet girl named Ravanne, who is artistic and another outsider. A bully named Billy calls Trisha "Cootie" because of a nervous rash on her face and gives Thom and Ravanne the cruel nicknames "Sissy Boy" and "Her Ugliness." The trio become fast friends as they deal with taunts from Billy and his gang. The three friends go kite flying with hand painted silk kites made by Ravanne and have a great time on Halloween, until Billy steals their candy. Trisha learns that she and Thom share a love of ballet and that he takes ballet lessons.  His secret is revealed to the other students when Thom easily clears the high jump bar, which Billy just failed to do. Thom shouts out, "See what ballet can do for you!" which is overheard by Billy and the coach. The bully is furious that the coach wants Thom to try out for the team and confronts him on his way home, breaking his glasses. Sick of the bullying, Thom announces that he is going to perform a dance in the talent show. Because he cannot see well with the broken glasses, Ravanne and Trisha help their friend with stage blocking. At the talent show, Thom dances the part of Prince Siegfried from Swan Lake and his classmates are amazed at his "high and powerful" leaps and other athletic moves. Thom's brave performance earns him respect from his classmates. Polanco's signature illustrations are done with pencil and acetone markers. The kite flying drawings contain so much movement that the reader can almost feel the wind. In the author's note, the reader learns what her Michigan friends are doing today.
THOUGHTS: This is a powerful story of bullying and resilience. Although the text is wordy, it will still hold interest as a read aloud, because of the dialogue and pictures. It is a good choice for guidance counselors or classroom teachers for character lessons.  A worthwhile purchase and one of Polacco's better works.
Picture Book          Denise Medwick, Retired, PSLA Member