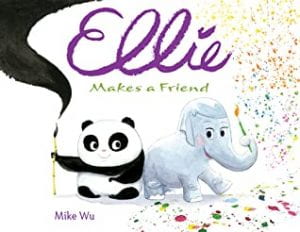 Mike, Wu. Ellie Makes a Friend. Disney Hyperion, 2020. 978-1-368-01000-9. $16.99. Grades K-2.
There is a commotion at the zoo! A new animal has joined, and it is a painter just like Ellie! Only instead of an elephant, the new animal is a Panda who came all the way from China. Ellie wonders if there is room for two painters at the zoo. Ellie decides to learn all about her new possible friend. Soon, the two are sharing stories, ideas, and painting together. They find harmony in the ways they are different, and delight in learning more about each other. Sharing can be the best way to learn about someone else and a great way to make a new friend.
THOUGHTS: A delightful book on friendship and sharing. This book is a nice beginner book for readers to look at the country of China, as it contains some brief discussion topics and ideas.
Picture Book          Rachel Burkhouse, Otto-Eldred SD